Alternate header for print version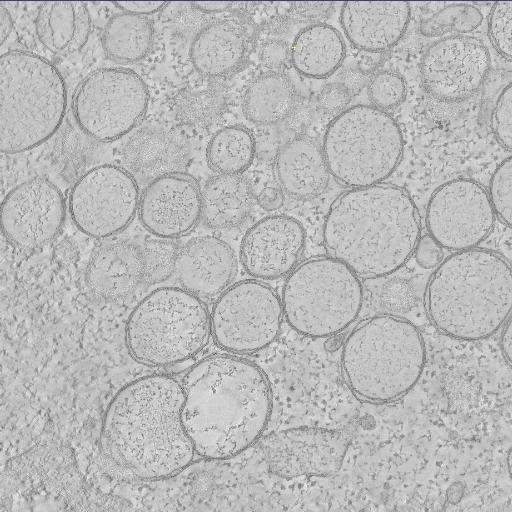 Display image description

Single computed slice through a dual axis tilt electron tomographic reconstruction of freeze-substituted VeroE6 cultured cells infected with the SARS-CoV.
Full resolution image description

Dual axis tilt electron tomographic reconstruction (6020_Suppmovie1.rec) of a freeze-substituted VeroE6 cultured cells infected with the SARS-CoV at 7h p.i. in IMOD format.
Volume_dimension

2024, 2024, 167
Volume scale

0.0012, 0.0012, 0.0012
Animation description

Animation (6020.avi) through the computed slices of a dual axis tomographic volume of freeze-substituted VeroE6 culture cells infected with SARS-CoV, showing interconnected double-membrane vesicles and endoplasmic reticulum.
---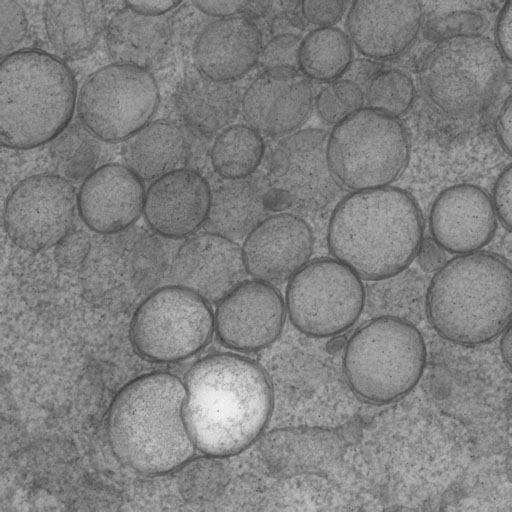 Display image description

Single tilt image from a double tilt series of a 0.2 um section of a VeroE6 cultured cells infected with the SARS-CoV imaged with transmission electron microscopy. Dark particles are 10 nm colloidal gold applied to the section to serve as fiducial markers for alignment of the tilt series.
Full resolution image description

Aligned image stack (6020_Suppmovie1.ali) in IMOD format
---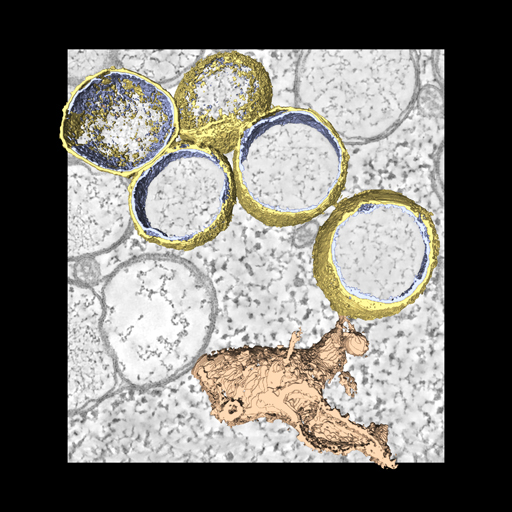 Display image description

3D surface-rendered reconstructions of viral structures and adjacent cellular features were processed using AMIRA Visualization Package (TSG Europe, Merignac, France) by surface rendering and thresholding. During this process, some volumes were denoised us
Segmentation file description

Zip file containing surfaced segmented objects in Amira format (ccdb6020_amira.surf) and random snapshots of the rendered objects. The segmentation key for this file can be viewed by "View list of segmented objects" in the Search and Display page for the segmentation of this record.
---
License
Project name

Membrane Modifications Induced by Corona Virus
Description

Electron tomography of African Green Monkey epithelial cells infected with SARS-coronavirus
Funding agency

Leiden University Medical Center (LUMC, the Netherlands), Council for Chemical Sciences of the Netherlands Organization for Scientific Research (NOW-CW grants 700.52.306 and 700.55.002), European Commission under context of Euro-Asian SARS-DTV Network (SP22-CT-2004-511064)
Leader(s)

Kèvin Knoops
Abraham J. Koster
A. Mieke Mommaas and Eric J. Snijder
Collaborator(s)

Marjolein Kikkert
Sjoerd H.E. van den Worm
Jessika C. Zevenhoven-Dobbe
Yvonne van der Meer
Experiment
Experiment date

06-22-2006
Title

Electron Tomography of Membrane Modification
Purpose

Study the membrane modification of African Green Monkey epithelial cells post-infection of SARS-coronavirus
Experimenter(s)

Kevin Knoops
Microscopy product
Microscopy product ID

6020
Image basename

suppmovie1
| Spatial Axis | Image Size | Pixel Size |
| --- | --- | --- |
| X | 2023px | 1.2 nm/pixels |
| Y | 2023px | 1.2 nm/pixels |
Subject
Scientific name

Cercopithecus aethiops
Group by

time after infection
Treatment

7 hrs post-infection with SARS-CoV strain Frankfurt-1 (provided by Dr. H. F. Rabenau 603 and Dr. H. W. Doerr (Johann-Wolfgang-Goethe-Universität, Frankfurt am Main, Germany)
Tissue section
Anatomical location

epithelium
Microtome

Leica UC6 ultramicrotome
Imaging parameters
Type

Electron microscopy product
Recording medium

Slow scan cooled 2K CCD camera
Accelerating voltage

120 kV
Notes

Camera info: 4k Eagle, FEI Company
Specimen preparation
Protocol used

For ultrastructural morphological investigations, SARS-CoV-infected Vero E6 cells were pre-fixed (for biosafety reasons) overnight with 3% paraformaldehyde in 0.1M PHEM buffer (60 mM piperazide-1,4-bis[2-ethanesulfonic acid], 25 mM HEPES, 2 mM MgCl2, 10 mM EGTA) at various time points after infection. For cryo-fixation, cell monolayers adhered to Thermanox coverslips (Nunc, Denmark) were plunged into liquid ethane. Freeze substitution was performed at -90C in an automated freeze-substitution system (Leica, Austria) using an FS medium consisting of 90% acetone and 10% water, containing 1% osmium tetroxide and 0.5 % uranyl acetate. After washing with pure acetone at RT, the samples were embedded in epoxy LX-12 resin. Thin sections were collected on 100 Mesh grids, 1.25% pioloform support film contrasted with uranyl acetate and lead hydroxide and subsequently viewed at 80 kV with a Philips CM-10 transmission electron microscope (Philips, The Netherlands).
Imaging product type
X tilt increment

1 degrees
Y tilt increment

1 degrees
Description

the specimens were rotated 90° around the Z-axis using a dual-axis tilt holder