Alternate header for print version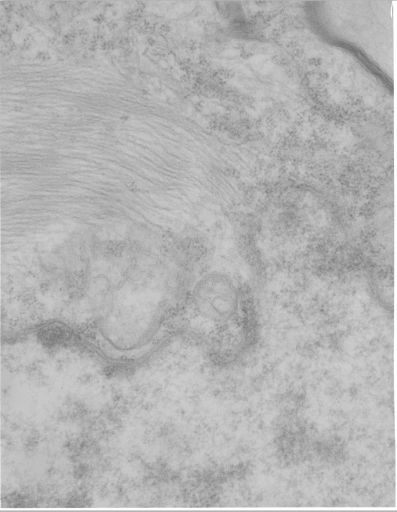 Display image description

Electron micrograph of paired helical filaments in the cell body of a 0.25 um thick section through a cortical pyramidal neuron from the brain of a patient with Alzheimer's disease. The specimen was prepared from biopsy material obtained several decades ago.
Full resolution image description

Serial section image stack aligned using Midas from the IMOD package to correct for non-linear distortions. The image stack was then binned down by 4x for both the X and Y axis.
---
License
Project name

Alzheimer neuron reconstructions
Description

Reconstruction of cortical neurons from biopsy material obtained from Alzheimers disease patients
Funding agency

National Institutes of Health
Collaborator(s)

Rama Ranganathan
Thomas J. Deerinck
Stephen J. Young
David Hessler
and Robert D. Terry
Experiment
Experiment date

01-01-1987
Title

Alzheimer reconstruction
Purpose

Reconstruction of Alzheimers neurons using serial section EM
Experimenter(s)

Tom Deerinck
Microscopy product
Microscopy product ID

6350
Product type

SERIAL SECTION
Subject
Scientific name

homo sapiens
Treatment

patients diagnosed with Alzheimers disease
Tissue section
Anatomical location

cerebral cortex
Specimen description
System

central nervous system
Cell type

Neocortex pyramidal cell
Imaging parameters
Type

Electron microscopy product
Accelerating voltage

100 KeV
Imaging product type
Description

Alzheimer Neuron