Alternate header for print version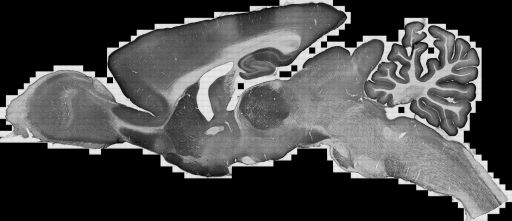 Display image description

Large scale mosaic of a 40 um thick parasagittal section of rat brain immunolabeled with against the plasma membrane calcium pump protein, PMCA1a. using a polyclonal antibody against the C terminus and peroxidase-DAB as the chromagen. The zoomified image for browsing on the web is slightly downsampled from the full resolution data available for download.
Full resolution image description

Assembled mosaic in tiff format 2.4 Gb
Volume_dimension

77400, 33300, 1
Volume scale

0.4, 0.4, 40
---
License
Project name

Localization of plasma membrane Ca2+ ATPases (PMCAs) in the rat brain
Description

Regulation of cytoplasmic calcium is crucial both for proper neuronal function and cell survival. The concentration of Ca2+ in cytoplasm of a neuron at rest is >10,000 times lower than in the extracellular space, pointing to the importance of the transporters that extrude intracellular Ca2+. The family of plasma membrane calcium-dependent ATPases (PMCAs) represent a major component of the Ca2+ regulatory system. However, little information is available on the regional and cellular distribution of these calcium pumps. We used immunohistochemistry to investigate the distribution of each of the four PMCA isoforms in the rat brain.
Funding agency

National Institutes of Health (NS51769 EES)
Collaborator(s)

Emanuel E. Strehler
Richard J. Weinberg
Katherine A. Kenyon
Experiment
Title

PMCA1a in the adult rat brain
Purpose

To investigate the spatial distribution of the "a" variant of PMCA1 (PMCA1a) in the rat brain
Experimenter(s)

Alain Burette
Microscopy product
Microscopy product ID

7266
Instrument

Olympus BX51WI microscope
Microscopy type

TRANSMITTED LIGHT
Subject
Scientific name

Rattus norvegicus
Specimen description
System

central nervous system
Imaging parameters
Type

Light microscopy product
Mounting medium

D.P.X. mountant
Specimen preparation
Protocol used

AntiseraThe PMCA1a antibody (CR1a) was generated by immunizing New Zealand rabbits with keyhole limpet hemocyanin-conjugated synthetic peptide (Filoteo et al., 1997). NR1a was generated against a 20-residue peptide sequence (VFSSSTASTPVGYPSGECIS, residues 37-57) in the carboxy terminus region of the rat PMCA1a. The specificity of NR1a was established by western blots using microsomes from COS cells overexpressing specific PMCAs, and further confirmed in microsomes from rat brain. CR1a recognizes only one band at 129 kDa. Staining was absent in the presence of the peptide immunogen.Tissue PreparationAll procedures related to the care and treatment of animals were in accordance with institutional and NIH guidelines. Twelve male Sprague-Dawley rats (200-350 g, Charles River, Raleigh, NC) were used for this study. After inducing deep anesthesia with sodium pentobarbital (60 mg/kg, i.p.), rats were intracardially perfused with heparinized saline followed by 500 ml of fixative. Rats were fixed with 4% paraformaldehyde freshly-depolymerized in phosphate buffer (PB, 0.1 M, pH 7.4). Brains were then removed and postfixed 2 h at 4 degrees C in the same fixative. Brains were cut at 40-60 m on a Vibratome and collected in cold PB.Light microscopyFree-floating sections were permeabilized with 50% ethanol for 30 min and then treated for 30 min with 3% H2O2 in phosphate-buffered saline (PBS, 0.1 M, pH 7.4). After preincubation in 10% normal donkey serum (NDS, to block secondary antibody binding sites), sections were incubated in CR1a (1:1,000) overnight on a shaker at room temperature. For immunoperoxidase microscopy, sections were then incubated for 3 hours in biotinylated secondary antibody (1:200; Jackson ImmunoResearch, West Grove, PA) and for 1 hour in ExtrAvidin-peroxidase complex (1:5,000; Sigma, St. Louis, MO); peroxidase was histochemically visualized with diaminobenzidine. Processed sections were mounted on gelatin-coated slides, air dried, and cleared with xylene before being coverslipped with D.P.X. mountant (BDH Chemicals, Poole, England).