Alternate header for print version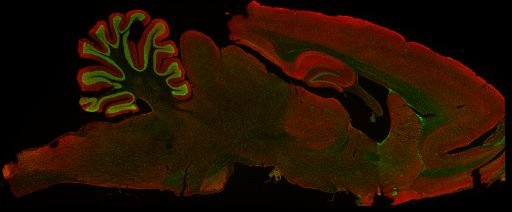 Display image description

Large scale mosaic of a parasagittal section of rat brain stained with an antibody against PMCA1a (red) and counter stained with Hoescht 33342 to reveal cell nuclei (green).
Full resolution image description

Processed mosaic in ppm format
Volume_dimension

70656, 29184, 1
Volume scale

0.36, 0.36, 33
---
---
License
Project name

Localization of plasma membrane Ca2+ ATPases (PMCAs) in the rat brain
Description

Regulation of cytoplasmic calcium is crucial both for proper neuronal function and cell survival. The concentration of Ca2+ in cytoplasm of a neuron at rest is >10,000 times lower than in the extracellular space, pointing to the importance of the transporters that extrude intracellular Ca2+. The family of plasma membrane calcium-dependent ATPases (PMCAs) represent a major component of the Ca2+ regulatory system. However, little information is available on the regional and cellular distribution of these calcium pumps. We used immunohistochemistry to investigate the distribution of each of the four PMCA isoforms in the rat brain.
Funding agency

National Institutes of Health (NS51769 EES)
Collaborator(s)

Emanuel E. Strehler
Richard J. Weinberg
Katherine A. Kenyon
Experiment
Title

PMCA1a in the adult rat brain
Purpose

To investigate the spatial distribution of the "a" variant of PMCA1 (PMCA1a) in the rat brain
Experimenter(s)

Alain Burette
Microscopy product
Microscopy product ID

7351
Microscopy type

MULTIPHOTON
Image basename

2K + 110.img
| Spatial Axis | Image Size | Pixel Size |
| --- | --- | --- |
| X | 512px | 0.36 um/pixels |
| Y | 512px | 0.36 um/pixels |
| Y | 1px | |
Subject
Scientific name

Rattus norvegicus
Tissue section
Anatomical location

Brain
Specimen description
System

central nervous system
Imaging parameters
Type

Light microscopy product
Specimen preparation
Protocol used

Brain section was immunolabeled for PMCA1a using CR1a antibody from Emanuel Strehler (1:2000). Secondary antibody was Alexa Fluor 568. Some sections were then counterstained with DAPI (Invitrogen) or Hoescht 33342 (Invitrogen) to visualized all cell nuclei and/or with NeuroTrace 640/660 (Invitrogen) to selectively visualized somata of neuronal cells. The sections were coverslipped in Gelvatol.
Imaging product type
Description

PMCA1a immunolabeling of adult rat brain