Alternate header for print version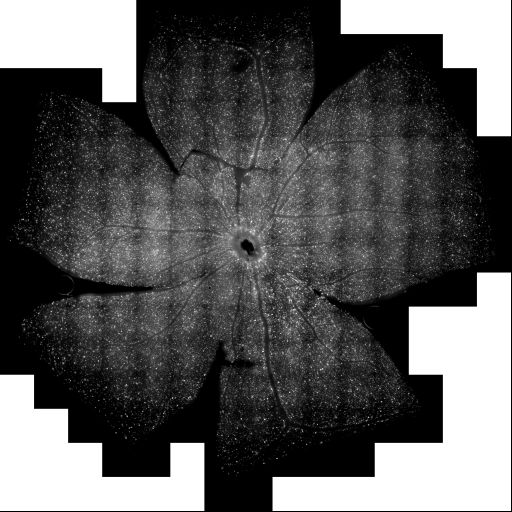 Display image description

Mosaic reconstruction imaged using spinning disk confocal microscopy of a flat mount of retina showing retinal ganglion cells retrogradely labeled via fluorogold injection into the superior colliculus in an astrocyte specific Nf1 conditional knock out mouse. Details may be found in Kim et al., Neuroscience. 2010 Sep 29;170(1):178-88.
Full resolution image description

Assembled mosaic of a flat mount retina with retinal ganglion cells retrogradely labeled using fluorogold in tiff format
Volume scale

0.39, 0.39, 1
---
License
Project name

Characterization of optic gliomas from neurofibromatosis-1 (Nf1) genetically-engineered mice
Description

Use of large scale imaging of the optic nerve and chiasm to characterize development of optic gliomas from neurofibromatosis-1 (Nf1) genetically-engineered mice
Funding agency

NCI and NCRR
Collaborator(s)

David Gutmann
Eric Bushong
Mark Ellisman
Da-Yong Lee
Experiment
Title

Large scale mosaic imaging with retrograde labeling of retinal ganglion cells
Purpose

The purpose of this study was to investigate the progression of changes in retinal ganglion cells and optic nerve glia in neurofibromatosis-1 (NF1) genetically-engineered mice with optic glioma. RGC were counted in whole retina preparations using high-resolution, mosaic confocal microscopy following their delineation by retrograde FluoroGold labeling. Then, we found reduced RGC numbers in Nf1+/¿GFAPCKO mice, supporting a model in which the combination of optic nerve Nf1 heterozygosity and glial cell Nf1 loss results in disrupted axonal-glial relationships, subsequently culminating in the degeneration of optic nerve axons and loss of their parent RGC neurons.
Experimenter(s)

Keun-Young Kim
Microscopy product
Microscopy product ID

7759
Instrument

Olympus DSU Confocal Microscope
Microscopy type

Spinning Disc Confocal Microscopy
Subject
Scientific name

Mus musculus
Strain

C57Bl/6 Nf1 GFAP CKO
Group by

Injection of tracer
Treatment

Both mutant and wild-type mice were injected with fluorogold tracer bilaterally into the superior colliculi. Please refer to the subject description for which images belong to which type of animal. Retrograde Labeling of Retinal Ganglion Cells One week prior to euthanasia, FluoroGold (1 ul/injection; Fluorochrome Inc., Englewood, CO) diluted in saline was microinjected bilaterally into the superior colliculi of anesthetized mice with a mixture of ketamine (Fort Dodge Animal Health) and xylazine (Vedeco Inc.) in a stereotactic apparatus, as previously described (Kim et al., 2004). Fluoro-Gold is taken up by the axon terminals of RGC neurons and transported retrogradely to the cell bodies in the retina (Selles-Navarro et al., 1996). The FluoroGold in the RGC neurons persists for at least 3 weeks without significant fading or leakage (Dong et al., 1996). Mosaic image arrays from retinal flat-mounts (n=6 retinal flat-mounts/mice/group) were captured under an Olympus spinning disk confocal microscope (Olympus America Inc., Center Valley, PA) equipped with a high-precision closed loop XY stage and closed loop Z control with commercial mosaic acquisition software from MicroBrightField (MBF Bioscience Inc., Williston, VT) modified by us (Chow et al., 2006, Price et al., 2006). The microscope was equipped with a high-resolution CCD camera for high-speed mosaic acquisition. Images were stored in Photoshop files (Adobe Systems Inc., San Jose, CA).
Specimen description
System

central nervous system
Cell type

retinal ganglion cell
Imaging parameters
Type

Light microscopy product
Imaging product type
Description

FG labled RGC in retinal flatmount