Alternate header for print version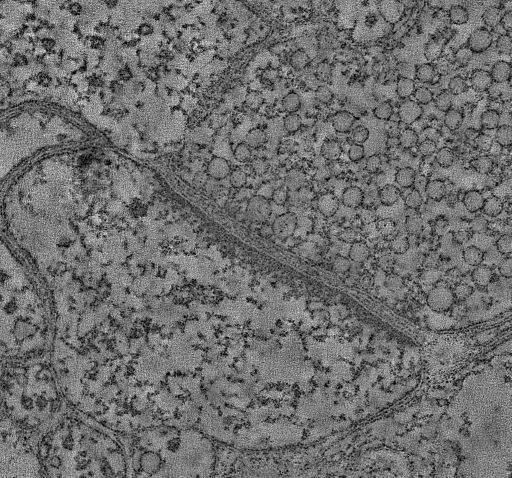 Display image description

Axo-spinous synapse in a 120 nm section of stratum radiatum of hippocampal area CA1 in rat, reconstructed using double tilt electron tomography. Corresponds to Fig 4D in Burette et al.
Full resolution image description

Reconstruction of synapse in hippocampal area CA1 stratum radiatum from rat in TIFF format. Corresponds to Fig 4D in Burette et al.
Volume_dimension

1500, 1400, 45
Volume scale

0.0005, 0.0005, 0.0013
Animation description

Animation through the computed slices of a reconstruction of an axo-spinous synapse in a 120 nm section of stratum radiatum of hippocampal area CA1 in rat, reconstructed using double tilt electron tomography. Corresponds to Fig 4D in Burette et al.
---
License
Project name

Electron tomographic analysis of synaptic structure in the adult rat cortex
Description

Novel specimen preparation techniques were combined with electron tomography to provide new views of synaptic structure in the cortex of the adult rat
Leader(s)

Alain C. Burette
Collaborator(s)

Richard Weinberg
John Crum
Mark Ellisman
Maryann Martone
Experiment
Title

Tomographic imaging of synapses
Purpose

Imaging of synapses prepared with an osmium free aldehyde fixation protocol
Experimenter(s)

Alain C. Burette
Microscopy product
Microscopy product ID

8643
| Spatial Axis | Image Size | Pixel Size |
| --- | --- | --- |
| X | 1960px | 1.1 nm/pixels |
| Y | 2560px | 1.1 nm/pixels |
Subject
Scientific name

rattus rattus
Tissue section
Anatomical location

Hippocampal area CA1 or cortical area S1
Specimen description
System

central nervous system
Imaging parameters
Type

Electron microscopy product
Recording medium

Slow scan cooled 2K CCD camera
Accelerating voltage

400 KeV
Notes

Tilt series were recorded using either a slow-scan CCD camera or film at X15,000¿X20,000 magnification. The CCD camera was 1960 x 2560 pixels, with single-pixel resolution of 1.1 nm. For film tilt series, negatives were digitized using scanners with pixel resolutions ranging from 0.7 to 2.2 nm.
Specimen preparation
Protocol used

Adult male Sprague-Dawley rats (250-500 g) were deeply anesthetized with pentobarbital (60 mg/kg, IP) and sacrificed by intra-aortic perfusion with 2% glutaraldehyde and 2% freshly-depolymerized paraformaldehyde in 0.1 M phosphate buffer (PB, pH 7.4), after a brief flush with heparinized saline. Blocks of fixed forebrain were sectioned on a Vibratome at 50 um, collected and stored in PB at 4 degrees C. Sections containing regions of interest were prepared for electron microscopy according to modifications of the protocol described in Phend et al. 1995. In 1% uranyl acetate. Additional metal salts were tested, including potassium ferrocyanide, chromium potassium sulfate, osmium trichloride, iridium tetrabromide, and mercuric acetate. Particularly fine grain and visualization of structure was seen by combining uranyl acetate with 0.1% PtCl4; for that reason, the present manuscript is based on observations from this material.Sections collected in glass vials on a shaker at 4 degrees C were incubated 40 min in 1% tannic acid (Mallinkrodt) in 0.1M maleate buffer pH 6.0 (MB), then 20 min in 0.1% CaCl2 in MB, then 40 min in a mixture of 1% uranyl acetate (Electron Microscopy Sciences) and 0.1% PtCl4 (Pfaltz & Bauer), then rinsed in MB. Sections were then dehydrated through graded ethanol solutions into propylene oxide. Sections were infiltrated with Epon-Spurr resin at room temperature, sandwiched between two sheets of Aclar plastic, and heat-polymerized at 60 degrees C. Chips of S1 cortex and CA1 hippocampus were glued to plastic blocks and thin sections cut on an ultramicrotome with a diamond knife. For electron tomography, ~120 nm sections were collected on 100 mesh hexagonal gold grids. To test retention of antigenicity, postembedding immunocytochemistry was performed: grids were immunoreacted with NR2A/B primary antibody (Chemicon, AB1548, lot# 0509010940) and visualized with 20 nm gold particles, as described (Phend et al., 1992).
Imaging product type
X tilt increment

2 degrees
Y tilt increment

2 degrees